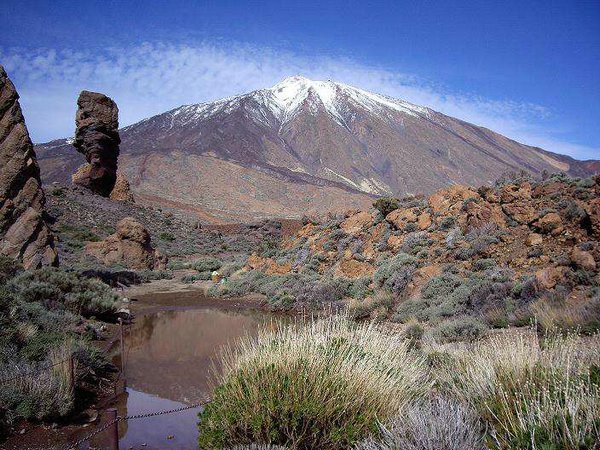 Tenerife: the largest of the Canary's seven islands, encompasses an area of approximately 2,034 square kilometers. Not only is Tenerife the highest and biggest of the Canary Islands, it is also the most heavily populated as well as the most popular (as a tourist destination). Tenerife's central mountain, called Mount Tiede, is actually a dormant volcano (last eruption: 1798 A.D.) that rises at a rather remarkable 12,200 feet (approximately 3,718 meters above sea level). Mount Tiede is not only the highest peak in the Atlantic, but also in the entirety of Spain.
One of the principal attractions of Tenerife as a tourist destination is its perfectly ideal weather – Tenerife boasts the lowest temperature difference between average summer and winter temperature (between 15 and 24 degrees Celsius), with very little rain and no distinctive rainy season. Though the volcanic nature of the island means that there are very few natural beaches, the few that exist consist of beautiful black sand (note: a few beaches have been artificially created using imported gold sand in order to accommodate the demand of tourists).
With its relatively mild temperatures and quite varied topography, Tenerife is an ideal destination for the outdoor-athletically-minded. While the rest of continental Europe suffers distinctive rainy and snowy seasons, rock climbers can find rescue in the pristine sunny cliffs of Tenerife. The islands holds approximately 900 mostly singly-pitch routes, split into over 20 separate crags. A site at the foot of Mount Tiede, called Cañada del Capricho, consists of some 300-foot cliffs with some tremendous and very varied routes. Arico gorge, located in the mountains of Arico, is the largest climbing area on Tenerife. The gorge, a dried up riverbed, is home to some of the hardest routes in Spain, as well as some beautiful bouldering sites. The principal issue with Tenerife used to be a complete lack of climbing guidebooks; however, a recently published book on climbing in Mallorca included many of Tenerife's beautiful crags.
The stunning main national park in which Mount Tiede is housed also includes many other mountains, all of which can be discovered through the extensive network of hiking trails. Montaña Blanca for example (the third highest peak on Tenerife at 2,748 meters) has a relatively easy hiking loop at 7 kilometers long and 500 meters descent/ascent. Montaña Blanca's trail is also one of the few easily accessible places where one can find the ever-elusive Tiede Violet. Naturally, more experienced hikers and mountaineers can also attempt the Mount Tiede itself – decidedly more difficult due to not only the harsher terrain, but also the elevation and wind that whips about near the top.
Water sports are very popular in the Canary Islands in general, with Tenerife topping the list due once again to the mild weather and seemingly endless sunshine. If you want to try scuba diving, Tenerife very well might be the place to go – with unpolluted waters, stunning volcanic formations, numerous exciting shipwrecks, and over a dozen scuba centers and schools scattered around the island, you would be hardpressed to find such a selection of choices within such a small area. The constant trade winds that pass through the island also make windsurfing and kite surfing daily options. Lastly, Tenerife is internationally known for its quality surfing. Punta Blanca and El Socorro are both surf spots often included in the competition circuit. With both right- and left-breaking waves, as well as some of the best volcanic reefs in the world, Tenerife may be difficult to beat, particularly in the Atlantic area. For cheap holidays to Tenerife, click here.
…And when you're done playing, savor the beautiful combination of cultural and culinary flavors that Tenerife has to offer…!
Sources: www.etenerife.com; www.rockfax.com; www.tenerifehiking.com; www.webtenerifeuk.co.uk
Image source: http://www.euroresidentes.com/euroresifr/guides-espagne/guide-des-iles-canaries.htm