Are you forever looking to scratch that travel itch? Wanderful's monthly virtual events round-ups highlight the most interesting online gatherings for women who love to travel and for women travel content creators.
This month, we have our cornerstone travel chat that's free for members and open to the public, plus an incredible virtual trip to Iceland! That event will be live and interactive and you won't want to miss it. It's free and open to the public!
If you're eyeing up our members-only events, be sure to join the global community so you don't miss out! We'll be celebrating Wanderful's birthday on 22 May and would love to have you join us.
Here are our top virtual events for travelers and creators in May 2021.
Wanderful's May Rundown
---
Virtual Events for Travel Lovers
Free for Wanderful members, open to the public!
Sisterhood, snacks, and socializing: welcome to Wanderful Women Wednesdays!
Wanderful Women Wednesday is our signature monthly event, connecting our travel loving community together in cities around the world. We'll host themed conversations over our shared love of travel and gain forever friendships in the process.
Each event will be hosted by a different director of one of our 50+ amazing Wanderful chapters who will pick a monthly conversation theme and ask questions so we can share our favorite travel stories.
This event is great for:
Anyone who loves to travel
Travel creators + small business owners
Members of the travel industry
And more!
Free for Wanderful Members!
Are you a member of Wanderful? All members get *free* access to this event and events in Wanderful chapters around the world, plus an exclusive online member community, monthly webinars and learning tools, and so much more. To learn more about being a member, click here. Prices start at only $9/month, so it already pays for itself from our Wanderful Women Wednesday events every month!
Members, you can register to attend this event for free right here!
Our prize this month: We're excited to offer a super fashionable DELSEY PICPUS messenger bag to one lucky winner at this month's Wanderful Women Wednesday! Make sure you're there live when we do the drawing!
This month's hostess + theme: This month, WWW will be hosted by Teresa Willis, chapter director of Wanderful St. Louis, and we'll talk about accommodations, among other travel topics!
How to participate: Bring a snack, beverage of your choice, and find a comfortable, relaxing spot. Turn your video on (or leave it off if you feel more comfortable that way). We welcome all Wanderful members for a fun time together!
---
Free & Public Event
Missing travel these days? Now, Wanderful and Hostelling International are teaming up to take you on an exciting trip to Reykjavik, Iceland — no need for a plane ticket, and all directed by YOU!
At this special 90-minute "Choose Your Own Adventure"-style event, you'll be greeted at the front door of Loft Hostel + Cafe and invited to take a look around.
Want to explore Icelandic culture? Food? Lifestyle? Music? You and the other attendees will get to vote on where to go next, learning all sorts of new skills and hearing personal stories from around Reykjavik, all happening live with a crew of talented artists, chefs, and more to show you a little bit of Iceland!
Your Event Host: The event will be hosted by Jewells Chambers, @allthingsiceland, creator and host of the award-winning All Things Iceland podcast and YouTube channel, and Irene Pruna, @irenepr1na, from Barcelona who is currently living in Reykjavík doing a volunteering program with Hostelling International Iceland to promote sustainable traveling.
This Event is Great for:
Anyone who loves to travel
Travel creators and influencers
Members of the travel industry
And more!
Special Surprises and Offers: There's more? Yup! Stick around for special surprises and offers available exclusively to all of our "travelers"!
This event is free for everyone. Know another travel lover who's missing travel? Invite them along!
---
Related: Plan a Trip to Reykjavik with Inspiration from 21+ Creators!
---
For Wanderful Members Only
Self-care and self-reflection are key practices that contribute to a growth mindset. Sophia will discuss the meaning of these concepts, how to incorporate them into your daily life, and how to get started. Added bonus: we will discuss how your breath can contribute to your overall health and wellbeing.
About Your Facilitator: Sophia Hyder Hock is the Founder and CEO of Papilia, a company committed to improving diversity, equity, and inclusion (DEI) practices for destinations, travel organizations, and content creators. She integrates human-centered design methodologies to empower her clients to be sustainable thinkers and travelers through a greater understanding of diverse perspectives, mindful leadership principles, and communication styles.
As an international yoga instructor and yoga life coach, Sophia incorporates wellness ideologies into all her projects as a holistic way to inspire people to be their best self through life's many challenges.
Her love for travel started at the age of 10 when she moved from California to Sri Lanka. Since then, Sophia has been to 35+ countries and plans to inspire her toddler to be a citizen of the world through mindful travel and learning about his Bengali-American heritage. 
Learn about Sophia and her mindfulness services, follow her journey on Instagram, and learn about her 14-day virtual self-care retreat.
---
Free & Public Event
Feeling wanderlust? Get the low-down on the leading community for women who travel — and how you can become part of it.
About this Event
If you missed travel more than anything in 2020, you're one of us.
Now, the leading community for women travelers has a gift in store for you — and you're going to want to know everything about it!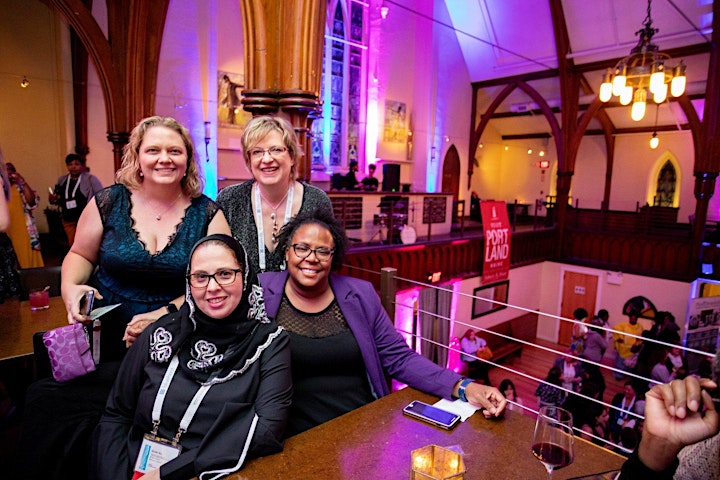 Imagine having instant access to a friend who can guide you, wherever you go in the world.
A sisterhood you can count on for tips on your next trip, someone to meet up with on a future journey, or a spare bedroom for the night.
A place where you can continue to learn and grow through completely free webinars, workshops, master classes and more on topics like travel hacking, budgeting skills, and solo travel.
An international network that you can tap into right from your computer screen, for parties, book clubs, language circles, and even cooking classes.
A second home wherever you are in the world.
Join us for a special event with Wanderful's founder and CEO, Beth
You'll learn all about what makes Wanderful special from Beth herself, plus a cast of active members who will give you all their best tips and advice for making the most of membership.
You'll learn:
How you can use membership to travel safely and confidently after COVID
Ways to expand your global mindset even right from home
Favorite tools and resources available for you to make the most of your next trip
Where to find travel buddies and locals to meet up with on your next adventure
All about the first major outdoor travel festival for women, Wanderfest!
Our exciting trip to Antarctica, and other ways to travel with your new sisters
Favorite features of the Wanderful member portal and how to use them
So much more
There's a reason our members are calling Wanderful membership the best investment they've made in 2020.
---
Virtual Events for Travel Content Creators
For Wanderful Creators Members Only
Have an endless stream of people sliding into your DM's asking to "pick your brain?" At times, these graciously given sessions turn into hours of your knowledge being used without you being compensated.
In this session, Phylecia Jones of iFind You Close, will break down how to monetize these requests, incorporating a screening process before getting on a call and ways to gently say NO.
About Your Host: Phylecia Jones is a two-time TEDx speaker, national TV financial contributor for Daily Blast Live, women in STEM advocate and Founder of iFind You Close helping speakers research and book more speaking engagements around the world.
After being featured on hundreds of stages in the United States, Canada, and the United Kingdom, Phylecia realized the power of using the stage as a way of marketing to grow a business and brand.
As the Founder of iFind You Close, she is bringing over 18 years of research, analytics and entrepreneurship experience to those who want to want to use public speaking to share the message of their company, business or brand.
---
For Wanderful Creators Members Only
Countries are beginning to open their borders. Planes are rumbling through the sky again. Ambitious leisure travelers are dipping their toes into their first post-pandemic flights. And press trips are back up and running.
As travelers begin to make plans for future travels, you — as a content creator — are a key gatekeeper for helping them make smart, responsible, and thoughtful decisions. Know that your influence matters a great deal. People look to you for advice, and the behavior you model has an impact, especially for younger consumers and women.
Taking full stock of this influence, you have a chance right now to commit to conducting your work as a content creator with a more thoughtful mindset. In order for travel to flourish in a more equitable and responsible way, the tourism industry needs you.
This event — highlighting nearly 20 ways content creators can "build back better" — is your invitation to embrace that responsibility.
About Your Host: JoAnna Haugen is a writer, speaker, and solutions advocate who has worked in the travel and tourism industry for more nearly 15 years. She is also founder of Rooted, a solutions platform at the intersection of sustainable tourism, social impact, and storytelling.
Through Rooted, JoAnna responsibly documents, supports, celebrates, and shares sustainable travel-related initiatives that prioritize local communities and the planet and helps others do the same.
A returned Peace Corps volunteer, international election observer, and intrepid traveler (when it's safe to travel!), JoAnna currently resides in Kyiv, Ukraine.
---
Looking for travel inspiration? Wanderful is a global community for travel-loving women. Connect with us!